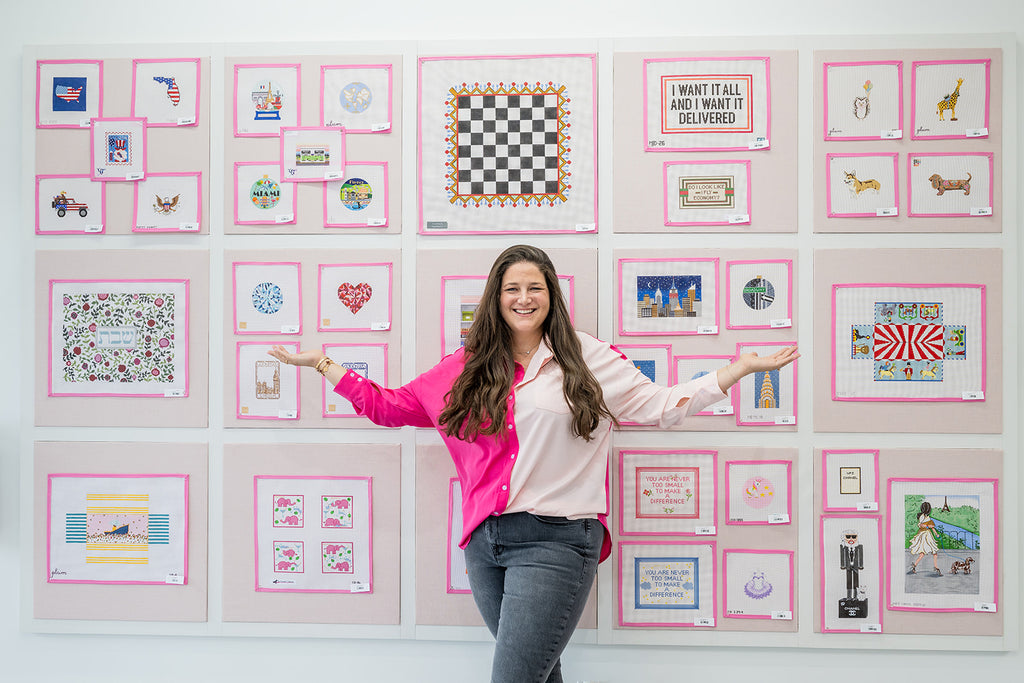 Our Tête-à-Tête this month is with Shana Benhayoun of SBTStitches.  Shana was our first guest designer when we started our tête-à-tête series a couple of years ago. As she recently opened a needlepoint shop in Aventura, FL, she graciously agreed to share some insights and photos of her gorgeous shop.  If you are ever in the Miami area, I highly recommend you stop by and have a look for yourself. I am very proud to call her a friend and I hope you will too.
1. Shana, you are a well-known needlepoint designer, a teacher of multiple classes from beginners to advanced decorative stitches, a wife, a mother of two young children, what possessed you to become a needlepoint shop owner?
When I began my needlepoint journey, I never thought I would work in the field! I have grown my business very organically over the last 10 years — from hobby to painting for friends, to designing canvases for sale, to teaching classes. The next natural step was to become a shop owner! I realized that I would love to own a shop back in 2019 when I was 8 months pregnant with my son but the timing was just off. I told myself then that when it is meant to happen, it will, and here we are!
2. Can you walk us through your design inspiration and the look you wanted for your shop?
I didn't spend so much time deciding on a "look" for my shop other than I wanted it to represent me and my brand. When I decided to open a shop, the first step was to do a complete re-branding of SBT ­­Stitches. The logo I had been using for years no longer represented what my brand is today so I had to think long and hard about what I wanted. I pride myself on representing the younger demographic of the needlepoint community because when I began in this industry, it was still very stuck in old-fashioned ways. The key aspects I wanted my brand to project are young, vibrant, modern and traditional. I want my shop to feel like a needlepoint home for all stitchers, whether this is your first experience in a needlepoint shop or you have visited every store in the United States. 
3. There seems to be an explosion of new needlepoint brick and mortar shops opening up, what do you attribute that to, and how will yours stand out from the others?
It's no secret that the needlepoint industry took off during the pandemic, bringing in new stitchers young and old. When I was teaching sold-out classes multiple times a week at the height of the pandemic, my students ranged from not knowing what needlepoint was to those picking it back up again after 30 years. The influx of new stitchers has totally revolutionized the needlepoint industry as a whole and people are realizing that they have a new market to tap into. When I began working in the industry, I couldn't buy a canvas online to save my life. Needlepoint canvases were strictly sold through brick and mortar shops and any designer who tried to sell direct-to-customer was essentially blacklisted from the shops. Obviously in today's world, online shopping is essential for any business to grow and many designers (myself included) broke that glass ceiling of the needlepoint world to find our place in the market.
It's not an easy process to figure out how to make your shop stand out from all the rest when everyone is selling the same products. When I was starting out as a designer, many shops wouldn't carry my canvases because I used a lot of profanity in my designs. That inevitably left a bad taste in my mouth about the shops. So the first thing I decided about my shop was that I'd represent designers at all stages of their journey. I'll be selling canvases from designers who are just starting out and trying to get their name out there, as well as all the staple designers you see in most shops. Additionally, if you follow me on Instagram, you will have noticed my love for embroidery. I purchased a small embroidery machine during the pandemic and basically monogram anything and everything. I have decided to purchase a "real" embroidery machine for the shop and am very excited to be able to offer custom bags, pouches and more, needlepoint-related or not. My machine will be arriving at the end of the summer and I can't wait to share all that with my customers!
4. Will you be offering your popular classes, and, if so, will they be online or will you be hosting them in your shop?
During the last few months of construction in the shop, I put my classes on hold so I could get everything up and running. I'm planning on bringing back my online classes in the fall, as well as offering in-shop classes. My Beginner's Technique Class is still my most popular to-date and I have personally taught more than 500 people how to needlepoint in that class. My canvas selection for the store includes many for beginners, and I hope to continue teaching many new stitchers how to needlepoint! I've also been working on some other fun class-related things so stay tuned for that!
5. Will you still be designing canvases?
My process of designing canvases is never to sit down at a scheduled time and try to force a design out of myself. It all comes so naturally and I get inspired by so many different things that it would be silly to say I will stop designing. So the answer is, yes! Maybe not on day one of the shop but I will definitely continue to create new designs! I will also be carrying my full line of designs in the shop and online!
Thank you to Shana for sharing and we wish you much success with your new shop!