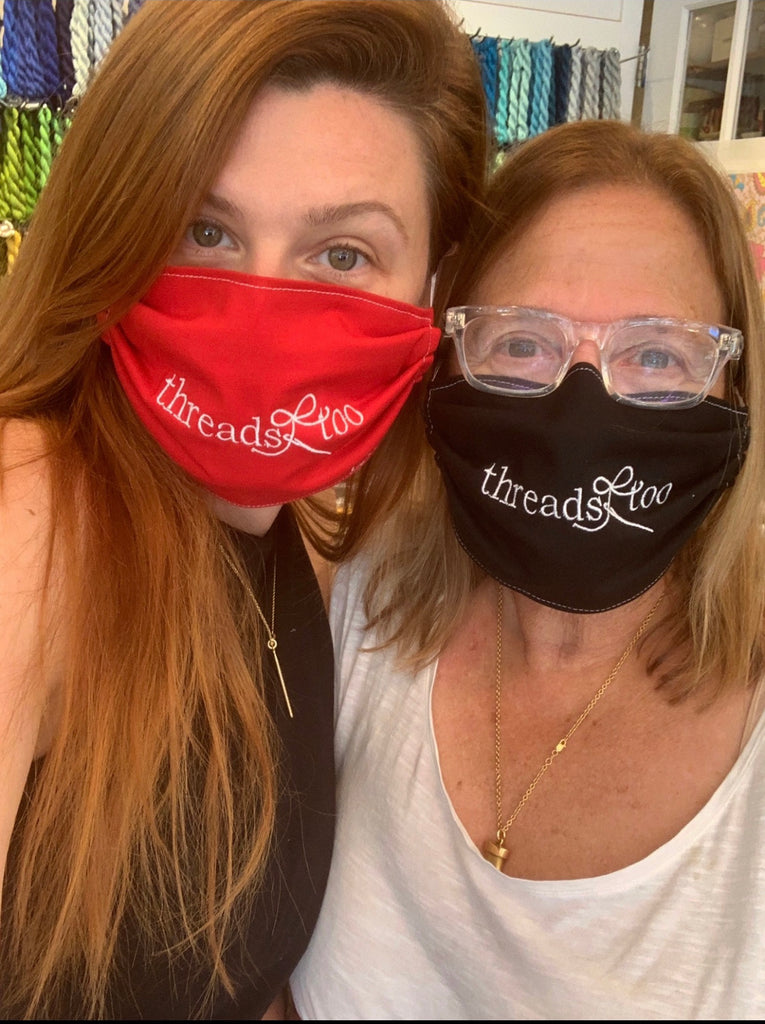 Our tête-à-tête this month is with Diane and Lauren Baxter of @threadstooneedlepoint.  Threads Too Needlepoint is a brick and mortar needlepoint shop located in Fair Haven, New Jersey.  As you can see from the photos, the shop looks amazing and it is definitely on my roadtrip list one day. They are currently expanding to a larger space to offer even more services. Diane and Lauren are constantly showcasing new and fun canvases and promoting new and upcoming designers.  I highly recommend that you follow them on Instagram and Facebook as they have the best social media accounts out there in the needlepoint community.  I am very fortunate that Diane reached out to me a couple of years ago to carry my canvases and am absolutely thrilled and honored they agreed to do this month's tête-à-tête.
1.  Can you tell us a bit about your needlepoint background, how and when did you both learn to needlepoint?
Diane: I have been needlepointing since I was in my late teens! My mother did beautiful needlepoints, and taught me. I have not been able to sit quietly and watch TV without stitching ever since. 
Lauren: I started stitching about 7 years ago when I started dating Diane's son, Andrew, my now husband! At the time, she was stitching a bunch of beautiful pillows for their new home in Vermont. I had no idea you could create such amazing things!
2.  Can you give us a bit of the history behind Threads Too Needlepoint?  Have long have you been in business?  And are you both involved in the decisions as to what designers and canvases to carry in the shop? 
-The owner of our local needlepoint store of 30+ years retired in 2017. We were saddened and worried as to where we would feed our needlepoint habit! So… on a whim, Diane decided to buy the business. As luck would have it a  beautiful space across the street became available, and Threads Too was born! We are both involved in all the decisions for the store, and we have so much fun picking out new canvases, threads, and finding new designers!
3.  Diane, the question everyone wants to know, how is it working with your daughter-in-law and for you too Lauren, how did you start working with Diane?
Diane: I feel very lucky to have Lauren working with me. She has brought in a young, fresh point of view while still having an appreciation for the classic art of needlepoint. We both have similar tastes so it makes it very easy to work together. When I closed the store to in-person shopping due to the pandemic, Lauren came in full time and took over the Instagram and social media. She has done an amazing job, the outreach and growth has been incredible! Those millennials!!! 
Lauren: As Diane said, I started working at the store full time when the pandemic hit. I first though I would be taking a little break from my career as a hairstylist in NYC while "we flatten the curve". As the months of quarantine went on I found myself loving being at the store and working with my mother-in-law and growing our family business together, so in July 2020, I quit my job and committed myself to Threads Too! We have a very good relationship and I genuinely enjoy our time together, I often hear I am lucky to have a mother in law I love and get along so well with, and I couldn't agree more!
4. Can you tell us a bit about what you both have in your stash and what are you stitching at the moment?
Diane:
 I have a quite a few projects going at the moment! Right now I am stitching your "Netflix and Stitch" canvas, because that's just about all I do at the moment! I am also working on a small
@kimberlyannneedlepoint
mini-flat squares canvas to turn into a Credit Card holder. I am almost finished with the Cornflower canvas by
@thornalexanderstyle
, and now I am back to stitching an Hermes inspired canvas by
@katedickerson
 that I will make into a lucite tray for the store. I often start a project, and then a new canvas arrives at the store and I can't help myself! I get sidetracked! There is no such thing as too many canvases in the stash! 
Lauren:
 I also have a few projects in the works at the moment. It kind of depends on my mood and if  I am up for stitching my 18mesh projects (LOL). I am currently stitching your Blue Leopard clutch,  I switched up the colors to shades of green (my favorite color) with Silk and Ivory Threads and I am IN LOVE with it! I am also stitching the Ballerinas canvas by
@plumdesign_
for my friends daughter. I loved that canvas from the first time I saw it and I knew I had to stitch it! I also have a belt I am working on, and on the weekends I like to do a small project such as an ornament. The quick finishes are very rewarding!   
5.  You have a very strong media presence on Instagram and Facebook.  How do you think the business has evolved since the pandemic?
We closed the store to in-store shopping March of 2020 and have not been able to reopen yet (we are planning to reopen to in store shopping by the end of April!).  With that said, we have had no choice but to evolve. Social Media has been a crucial part of our business this past year. Most of our new customers found us through Instagram, and the outreach has been amazing! Since we have new customers from all across the country, we have been doing "virtual shopping" via FaceTime and Text to help them to see the canvas and pull threads from afar, and we will continue to offer that service even after the pandemic! We are now buying for a much broader audience, especially now that there has been a huge surge of new and young needlepointers! That definitely opens up a wider range of canvases to choose from, that we may not have been able to sell in store before, especially when it comes to 18 mesh canvases. Now that we have been doing so much shipping, we have decided to move our store into a bigger space next door which gives us a room that we can dedicate to wrapping and shipping! We have really enjoyed connecting with this community of needlepointers and designers, and we are so grateful for the support! 
6.  What do you see for the future of brick and mortar shops such as yourself?
We think that this pandemic has made people appreciate the in store shopping experience and the social interaction. People really miss being able to look at canvases in person, touch the threads, and play with different colors and fibers, and have a friendly chat. Our local customers are missing our bi-weekly stitch ins, as are we! We do think brick and mortar stores will be stronger than ever as people have a whole new appreciation for supporting small businesses!  
Thank you Diane and Lauren for such a fun and informative tête-à-tête.  We wish you much success with your expansion and can't wait to see what you post next!